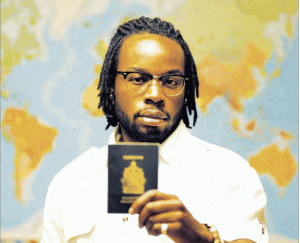 Dr. Christopher Stuart Taylor, PhD, is an academic, historian, university lecturer, public speaker, and blogger. He completed his doctoral work at Western University (Canada) in History with a specialization in Migration & Ethnic Relations. His dissertation, Flying Fish in the Great White North: The "Culture" of Black Barbadian Migration to 1967, explored the emigration push factors of Black Barbadians in the early to mid twentieth century.
Dr. Taylor focuses on issues of Black identity, multiculturalism, immigration, race and ethnicity, Caribbean history,slavery in the Americas, and the African and Black Diaspora.
He actively blogs for The Huffington Post and currently lectures at Western University in courses in Canadian history and Black Canadian Women's history.
Dr. Taylor will be on our show tonight at 9 p.m. Eastern/6 p.m. Pacific. He will talking about Black identity.
All you need to do watch the show live is to go The Dr. Vibe Show Homepage at http://thedrvibeshow.com/ tonight at 9 p.m. Eastern/6 p.m. Pacific. You can also provide your comments and questions during the event via Twitter (@drvibeshow#DrVibe) and at our Facebook Fan Page at "The Dr. Vibe Show" Facebook Fan Page.
You can connect with Dr. Taylor via:
Dr. Christopher's Words of (Un)Wisdom
Twitter
The Huffington Post
Please feel free to email us at info@blackcanadianman.com
Please feel free to "Like" the "The Dr. Vibe Show" Facebook fan page at "The Dr. Vibe Show" Facebook Fan Page
God bless, peace, be well and keep the faith,
Dr. Vibe
info@blackcanadianman.com
Producer of Google+ Hangouts – The Good Men Project
The Dr. Vibe Show At "The Good Men Project"
Dr. Vibe on HuffPost Live – August 2, 2013
2013 Black Weblog Awards Finalist (Best Podcast)
2012 Black Weblog Award Winner (Best International Blog)
2012 Black Weblog Awards Finalist (Best Podcast)
2011 Black Weblog Awards Finalist (Best International Blog and Best Podcast Series)
Black Blog Of The Day – Black Bloggers Network – June 23, 2011
Twitter
Twitter hashtag: #DrVibe
The Dr. Vibe Show – iTunes
Dr. Vibe Media – You Tube
Google+
The Dr. Vibe Show – Stitcher Radio
"The Dr. Vibe Show" Facebook Fan Page