Podcast: Play in new window | Download
Subscribe: Apple Podcasts | Android | RSS
Dr. Vibe speaks with Marina Sbrochi about her book Nasty Divorce: A Kid's Eye View.
To listen to an audio only version of this conversation, please click on the ">" symbol on the player below the video image in this post.
Marina Sbrochi holds a Bachelor of Arts in English Literature from The Ohio State University as well as a Masters in Professional Counseling from Amberton University. Marina is a blogger for The Huffington Post Divorce Blog. Her articles have been copied and posted on over 60 different law firm websites throughout the country. She is the IPPY Award winning author of Stop Looking for a Husband: Find the Love of Your Life and Nasty Divorce: A Kid's Eye View. She coaches divorced families to help them navigate their new normal in a way that keeps the NASTY from damaging their children and themselves. She is on twitter @DivorcedWKids and was named on the Top 10 Divorce Tips on Twitter!
Ms. Sbrochi was recently on our show talking about Nasty Divorce: A Kid's Eye View.
During our conversation, Ms. Sbrochi talked about:
– Some of her background include overcoming a divorce with kids and remarrying
– How do her and her first husband deal with their kids
– The story behind the Nasty Divorce: A Kid's Eye View and highlights from the book
– Some of the anecdote contained in the book
– The importance of the father in divorced children's lives
– Her thoughts on how the legal system deals with divorced children
You can connect with Ms. Sbrochi via:
Another Way Therapy
Twitter
Nasty Divorce: A Kid's Eye View
Stop Looking for a Husband: Find the Love of Your Life
Please feel free to email us at dr.vibe@thedrvibeshow.com
Please feel free to "Like" the "The Dr. Vibe Show" Facebook fan page at "The Dr. Vibe Show" Facebook Fan Page
God bless, peace, be well and keep the faith,
Dr. Vibe
dr.vibe@thedrvibeshow.com
Producer of Google+ Hangouts – The Good Men Project
The Dr. Vibe Show At "The Good Men Project"
One of the first Brand Ambassador's – Cuisine Noir Magazine
The Dr. Vibe Show™ On Blab
The Dr. Vibe Show™ Channel
Dr. Vibe – Producer And Co-host of Black Men Talking On WJMS Radio
Dr. Vibe on HuffPost Live – August 2, 2013
2013 Black Weblog Awards Finalist (Best Podcast)
2012 Black Weblog Awards Winner (Best International Blog)
2012 Black Weblog Awards Finalist (Best Podcast)
2011 Black Weblog Awards Finalist (Best International Blog and Best Podcast Series)
Black Blog Of The Day – Black Bloggers Network – June 23, 2011
Twitter
Twitter hashtag: #DrVibe
The Dr. Vibe Show – iTunes
Dr. Vibe Media – You Tube
Google+
The Dr. Vibe Show – Stitcher Radio
Linkedin – Dr. Vibe Show
Instagram
"The Dr. Vibe Show" Facebook Fan Page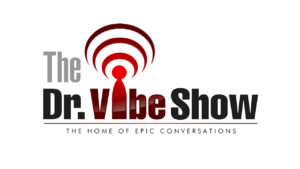 Most Viewed Posts Over The Last 24 Hours: